Directing: Sam Shepard
"ICARUS'S MOTHER"
Caffè Cino, New York, November 1965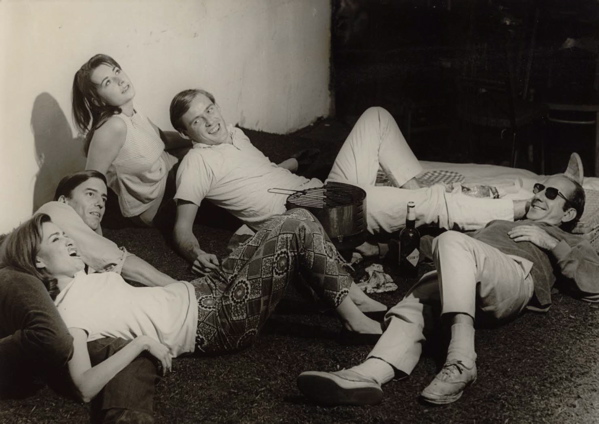 Cynthia Harris, Jim Barbosa, Lee Worley, John Kramer, and John Coe in "Icarus's Mother"
I saw Sam Shepard's first produced plays, "Cowboys" and "The Rock Garden," at Theatre Genesis in October 1964 and wrote an admiring review in The Voice. After that, Sam started writing plays at an amazing rate, and soon he was all over Off-Off-Broadway. "Dog" and "Rocking Chair" opened at La Mama in February; the Barr-Albee-Wilder Playwrights' Unit did "Up to Thursday" and "4-H Club"; and I directed "Icarus's Mother" at the Caffè Cino.
Sam and Joe Chaikin and I were friends, and "Icarus's Mother" came to me with a package of Open Theatre actors, which I was happy enough to go along with. The problem was that I had no experience directing experienced actors. I had directed fellow mental patients in a couple of plays at Riggs; "Three Sisters Who Are Not Sisters" was a casual project thrown together for a benefit and cast with people I knew rather than real actors. And that was the sum of my directing before this. "Icarus's Mother" is perhaps not a coherent play—the title is certainly off the wall—and my memories are probably distorted. These were excellent actors: Lee Worley, Jim Barbosa, Cynthia Harris, John Kramer, John Coe. But I confused them by dwelling on the apocalyptic themes of the play, the symbolic freight of the jet plane they watch flying crazily overhead, the ambiguity of the relationships—ideas, not actions. I was distracted by the technical demands—smoke signals from the campfire, terrifying sound effects—which overtaxed the resources of the Cino. We had a hard time making the play work, and Sam was not much help. It was only in the last week before opening that I focused on the reality of the picnic, which at last gave the actors something to play.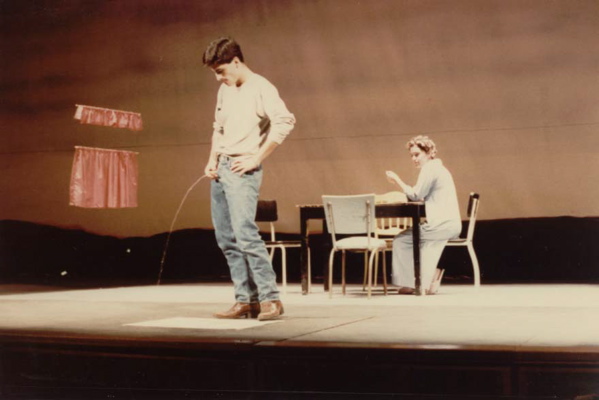 Jaime Arze and Pamela Eliasoph in "Curse of the Starving Class"
"Curse of the Starving Class"
Connecticut College, New London, 1985
I talked myself into an opportunity to direct a play at Conn College and chose Sam's "Curse of the Starving Class," one of the family plays that followed his more obscure early works but partook of similarly surreal imagery. The student actors were excellent, and it was a novel pleasure to have staff support for the production. I was happy with the results.
"Buried Child"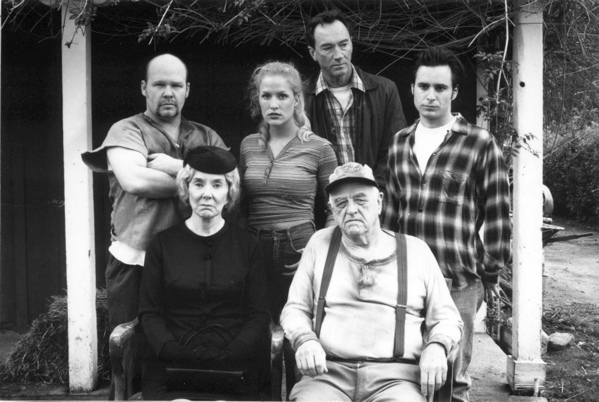 Robert Riechel Jr., Rojan Disparte, Kinsey Packard, Michael Rathbone, Larry Williams, and Howie Lotker in "Buried Child"
Genesis West, Lobero Theatre, Santa Barbara, 1999 (producer)
Maurice Lord directed. See Genesis West.