"Country Music"
I was at loose ends when I went to visit my parents in Santa Barbara in October 1971. I no longer had an apartment, or a lover, in New York and thought I would rather not go back to reviewing for The Voice, though I had no better idea how to make a living. I was saved by a letter from Murray Mednick informing me that Theatre Genesis had received its NEA and NYSCA grants and I could have the second slot in the season. I wrote the first act of "Country Music" in Santa Barbara, drove my VW back to New York, and camped on my brother Lewis's sofa while I finished the play and made the production, which opened before Christmas. The cast was wonderful. It was one of my big successes. I even won an Obie Award for my direction.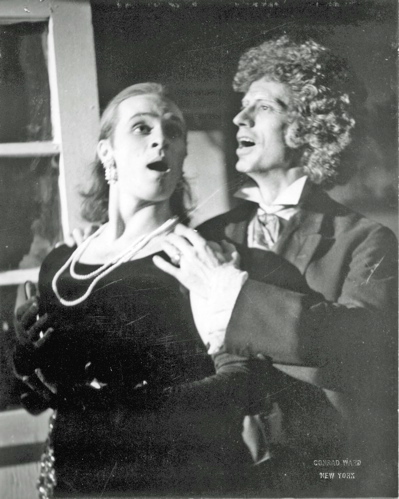 Nevele Adams and Charles Stanley in "Country Music" (Photo: Conrad Ward)
Two couples, one straight, one gay, come from the city to an old farmhouse in the country where Boppo, the grandfather of one of them, is dreaming away his old age in isolation. They stay through the winter, visited off and on by a cranky neighbor. A little girl is transformed into a baby bear, then a full-grown bear. In the spring they are all much older and eagerly go back to the city. Boppo is alone again until the bear transforms into a handsome young prince.
Boppo was my own grandfather's nickname, but the character is nothing like him. I tried to talk Taylor Mead into playing this role, which would have lent it a stranger flavor. Jerry Marcel designed the set and was voted an Obie for it, which he certainly deserved. After the voting, unfortunately, I spoke too openly to Arthur Sainer about the collaborative process; he took what I said the wrong way, phoned the other Obie panelists, and they cancelled Jerry's award, to my lasting regret. The main set was a kitchen much like Jean-Claude's kitchen in the country. Jerry filled it with detail in keeping with the magic realism of my play. I transformed the theatre space around it into a grassy hillside, with most of the audience seated on a sloping platform covered with artificial grass, as if they were out in the meadow looking in through a cutaway wall. My lighting aimed to evoke the slow transition I love in the country from afternoon to night, until the stage was lit only with a single candle; then the fresh morning light rising into day. Scott Burton stage managed; he was sometimes impatient with my realism, but he helped me get the effect I wanted.
Production Credits
"Country Music" was first presented by Theatre Genesis at St. Mark's Church in-the-Bouwerie, 10th Street and Second Avenue, New York, for 16 performances beginning 16 December 1971, with the following cast:
| | | |
| --- | --- | --- |
| BOPPO |   | Dwight Marfield |
| BABY |   | Melissa Linden |
|   |   | John Albano |
| ANDY |   | Beeson Carroll |
|   |   | (later Kevin O'Connor) |
| LOUISE |   | Barbara Eda-Young |
| MARCUS |   | Charles Stanley |
| PETEY |   | Nevele Adams |
| BILLY HAWS |   | Bill Hart |
Direction and lighting were by the author, with setting by Jerry Marcel and costumes by Joyce Marcel. The stage manager was Scott Burton. Burton Greenhouse ran the lights and sound.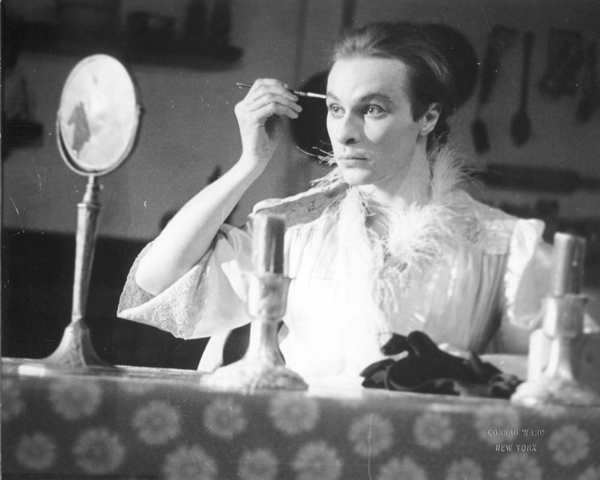 Nevele Adams in "Country Music" (Photo: Conrad Ward). The mirror had been on Judith Malina's dressing table at the 14th Street Living Theatre.
The Play
"Country Music" was published in "The Off-Off-Broadway Book," edited by Albert Poland and Bruce Mailman (Bobbs-Merrill, 1972). The script is also available from the author at [email protected].
Reviews
from The Village Voice, December 23, 1971
by Michael Feingold
Chekhov added to "Uncle Vanya" the subtitle "Scenes from Country Life," and I was thinking about that fact, watching Michael Smith's "Country Music" (Theatre Genesis), when suddenly Nevele Adams and Charles Stanley, for no immediately apparent reason, began playing the big Ranevskaya-Trofimov scene from the third act of "The Cherry Orchard," proving that Chekhov was as much on Mr. Smith's mind as on mine. So much so, in fact, that this scene, played in full, is the largest single element in Act Two of "Country Music."
It is certainly a Chekhovian play: In the kitchen of what looked to me like a New England country house (Jerry Marcel's set is pure Andrew Wyeth), an old grandfather (Dwight Marfield), a married couple, urban refugees (Barbara Eda-Young and Beeson Carroll), and a squabbling pair of lovers who are their guests (Messrs. Stanley and Adams), all live through a night of arrivals, tensions, and mild fits (which is all winter), and a day (Act Two) of tentative reconciliations, mild joys, and departures (which is all spring). The play is just that—two sets of moods, each paired with the atmosphere of a time of day and a season. (Besides Chekhov, it reminded me most of a play Mr. Smith may not even know, Arnold Wesker's "The Four Seasons," where a pair of lovers is taken through the same seasonal trip.)
In place of the events—the cuckoldings, duels, and mortgages—that are the underpinnings of Chekhov's drama, Mr. Smith gives us little whiffs of surrealism: The couple's baby girl, transformed into a bear, is sent off into the woods at the end of Act One, a much larger bear returns in Act Two, and sheds its skin at the final curtain to reveal John Albano. Over the intermission, Mr. Carroll and Mr. Stanley mysteriously acquire gray hair: the endless night has aged them. (At this point I put Chekhov aside in favor of Thornton Wilder's "Long Christmas Dinner.") Then, to make all the play's thematic material more explicit through connection with Chekhov, there are Madame Raevsky and her Petya.
It isn't hard to see what Mr. Smith is driving at. His people, sharing a sensibility that is intensely local and accessible right now, are leading the aimless lives of Chekhov's people, updated, bringing all the problems of their modern, urban existence to the country and not quite managing to cope with either the problems or the land itself. But his characters are typical of his group, his culture, his time: Where Chekhov offers activity, emotional explosions, captures and retreats, Mr. Smith offers arcane symbols, literary fragmenta ("these fragments I have shored against my ruins"), and private drug-jokes. There are no antagonists in this play, no Natashas, Solyonys, Lopakhins; the antagonist, like everything else in the work, is a feeling—this one of ineffectiveness, of not being able to do anything with the world as it is, except keep your own head cool, and that just barely. The play's unsung song is the cry of the guilt-ridden soul in "Terminal" who takes responsibility for the whole world: "The material I was given was impossible to work with!"
This is, to put it mildly, copping out. I've always hated Chekhov, because I sense in his plays an unbelievable contempt for the unhappy people he writes about: He can't show them as unhappy and leave it at that; he has to maim them all emotionally in some way, as if to prove that they're not worth his pity. But for all his hatefulness (and he must have been the most obnoxious prig in the history of Russia), Chekhov goes to the depths with his characters. He doesn't do anything but play tinkertoys with the feelings he finds there, but at least he goes there, at least he finds them. Mr. Smith shies away from going deep: His is a play of hints and non-explanations. More annoyingly, it is a play of non-matter. For the characters don't discuss what is on their minds (Chekhov's do) and they only infrequently reveal it by not discussing it (a technique which is Chekhov's special gift as a dramatist). Plenty of theorists are around to tell us that a play is pure form, and that matter is incidental; but what Mr. Smith's play lacks is matter. The music of it is very taking, and the atmosphere, for such a brief work, extraordinarily rich. But this last is a question of production: The play proper is only what its title says, a bit of "country music." It is to a real play what a subtitle is to a title.
It is a superb evening, however, because of the production. If Mr. Smith, writer, never gets beyond a little night music, Mr. Smith, director, gets beyond everything: I've never heard of a really satisfactory Chekhov production in New York; the producer who wants to do one should definitely contact Michael Smith. Everything in this staging tells, and tells double. The disparate cast works together as if blended by Waring, even those who wold seem not to fit at all: I've never much enjoyed Nevele Adams's hard-edged style; here he is mellow, touching, and dignified. Barbara Eda-Young has always seemed to me to be straining technically; here the strain is hardly perceptible. The two best performances, raching a remarkable intensity in such a narrow range of feelings, are those of Beeson Carroll and Charles Stanley; not far behind them, in lesser roles, are Dwight Marfield and Bill Hart. The whole thing should be seen. I wish there were a play in it, but maybe Mr. Smith's world, rather than Mr. Smith, should be blamed for that lack. I wouldn't like to think so; it's terrifying to imagine that the human spirit has shrunk so from Chekhov's time to the present.
from the North Bergen News, January 21, 1972
by Joyce and Gordon Tretick
Michael Smith's "Country Music," a recent production at Theatre Genesis, can only be described as a "living" experience. As you enter the theatre you are seated on a grassy slope (artificial of course) facing a remarkable set of a farmhouse kitchen (which has a pot-bellied stove, long table, assorted kitchenware, etc.), a setting that is so real that you can almost smell the bread baking in the oven. The play has a certain serenity reminiscent of the early Renoir films. An "old-timer" takes us into his home as he did the hippy couple and their child and the restless homosexual couple, all of whom came to the country for peace but find they cannot escape the lure of the city (and themselves). We never learn whether we are part of the old man's fantasy or what we witnessed really happened. Nevertheless, we thank author-director Michael Smith for a fascinating evening with a strange compelling beauty of its own.