Directing: Shakespeare
"A Midsummer Night's Dream (Abbreviated)"
Abiqua Country Estate, Silverton, Oregon, 2004.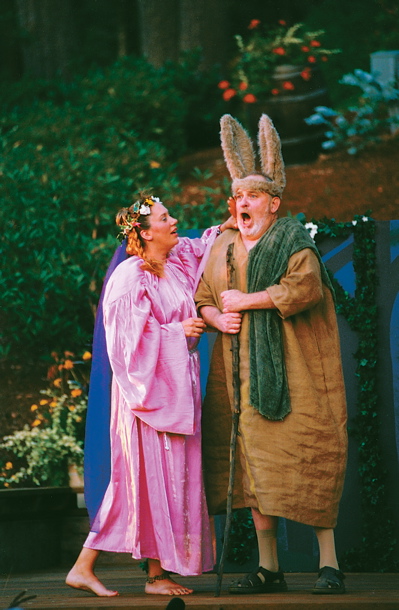 Betty Ann Prior as Titania and Phil Baker as Bottom
Carol Storke and I moved to this small town in the Willamette Valley in April 2003. I introduced myself to our new community by directing "Beyond Therapy" for the Brush Creek Players. Soon afterward I was approached by John Burke, a cultural gadfly (and philosopher), with a proposal that I direct "A Midsummer Night's Dream" as a fundraiser for the Silverton Arts Association. I had never directed Shakespeare and always wanted to so how could I refuse? It seemed a daunting project, though. And it seemed they were planning it as entertainment at a lawn party. I determined therefore to do an abbreviated version. I had no taste for Pyramis and Thisbe and the rude mechanicals and no good idea how to present them in this day and age; cutting them out let me focus the play on love. What is magical to me about this play is how the multiple love stories intertwine. I love it, and enjoyed typing out my shortened, clarified version. Needless to say, I did not alter any of Shakespeare's words.
I had the good idea of asking Steve Slemenda to play Theseus and Oberon; Steve was chair of the English Department at Chemeketa Community College and beautifully understood the way the language works. Betty Ann Prior brought flair and presence to Hippolyta and Titania. I wanted a boy for Puck and tried hard to find one; Hallie Day made a terrific impression when she auditioned just for the fun of it, and it seemed silly to hold being a girl against her. I had her play a boy, and she was excellent. Phil Baker was memorable in the pared-down role of Bottom. Four top actors from the high school—Juliana Slemenda (Steve's daughter), Kory Crosen, Zac Stowell, and Thai Carr—played the young lovers delightfully; working with them was a joy. Richard Arias Jr., the star of the Brush Creek Players, made the most of a tiny role as Hermia's father. Robin Slemenda did the costumes, and Leslie Kacalek produced the fairies—miracle workers both.
My feeling about Shakespeare is that everything is in the language. So many productions I have seen, especially in recent times, seem overacted, the speeches embellished with too much action and cleverness, as if what is being said needs continually to be illustrated. It is distracting, and too often the sense of the lines is lost. The natural rhythm is thrown off and it is hard to hear what is being said. I started rehearsals with several sessions of reading through the play several times slowly, stopping whenever anything was unclear, probing for sense, until every actor knew the intention behind every word he/she had to say. I kept after it all through rehearsals, and as a result every word was clear in the two performances. Thanks also to Hank Horner for miking the stage so skillfully.
We had beautiful weather. The setting was charming, the mood of the party festive and embracing, the hour-long play just the thing.
Production Credits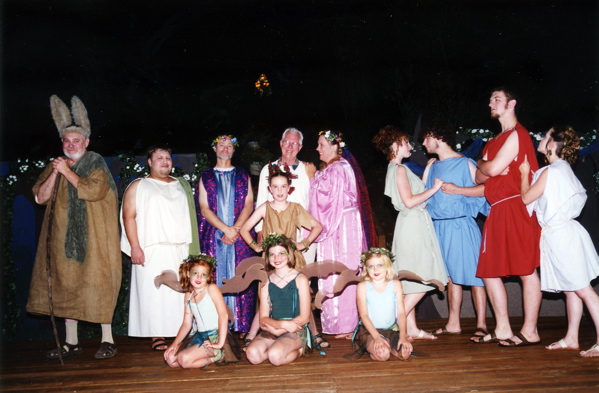 Cast with happy director
"A Midsummer Night's Dream (Abbreviated)" was presented by the Silverton Arts Association at the Abiqua Country Estate, Silverton, Oregon, August 30 and 31, 2004, with the following cast and crew:
THESEUS/OBERON
 
Steve Slemenda
HIPPOLYTA/TITANIA
 
Betty Ann Prior
EGEUS
 
Richard Arias Jr.
HERMIA
 
Juliana Slemenda
LYSANDER
 
Kory Crosen
DEMETRIUS
 
Zac Stowell
HELENA
 
Thai Carr
PUCK
 
Hallie Day
FAIRIES
 
BOTTOM
 
Phil Baker
| | | |
| --- | --- | --- |
| PRODUCER |   | John Burke |
| DIRECTOR |   | Michael Smith |
| STAGE MANAGER |   | Andrew Getz |
| COSTUMES |   | Robin Slemenda |
| COSTUME ASSISTANTS |   | Viola Butcher |
|   |   | Lisa Engle |
|   |   | Karen Cooper |
| SCENIC DESIGN/BUILD |   | Doug Ousterhout |
| CHOREOGRAPHER |   | Leslie Kacalek |
| ORIGINAL MUSIC |   | Christopher Wicks |
| FAIRY OBOE |   | Hinrich Müller |
| VIOLA |   | Eadie Anelli |
| LIGHTS & SOUND |   | Hank Horner |
| COIFFEUR |   | Betty Duer, Water Street Salon |
"Hamlet in Love"
Black Box Theater, Silverton High School, Silverton, Oregon, November 2010
My "happy 'Hamlet'" enjoyed a limited run in the Black Box Theater at Silverton High School. It was not a high school production but was written for Kory Crosen, a young actor who was still in high school when I cast him as Lysander in "A Midsummer Night's Dream (Abbreviated)." He subsequently acted for me in "Summer Lighting" at Brush Creek Playhouse, in which he played Theramenes to my son Alfred's Hippolytus. In "Hamlet in Love" the roles were reversed, with Alfred playing Laertes to Kory's Hamlet. To my mind he was the very image of the Danish prince, and I was delighted with the performance.